How to find us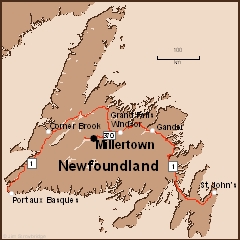 For more information, don't hesitate to get in contact with us.
Welcome!
Millertown is a scenic community located in the interior of the island of Newfoundland & Labrador, Canada. Millertown is nestled on the north east side of Red Indian Lake. It boasts the Gaff Topsail Plateau to the North, dense boreal forest to the south and one of the great canadian rivers, Exploits River to the east. Millertown offers the gateway to the island's wilderness, providing activities and spectacular scenery to suit any eco-tourist or resident. Here in Millertown you will find natural beauty that promotes a sense of relaxation as well as the hospitality and kindness of Newfoundlanders.
Red Indian Heritage Society Invites you to visit The Lewis Miller Room in Millertown this Summer
The Red Indian Lake Heritage Society operates a self-guided outdoor site at Indian Point which is widely regarded as the last home of the Beothuk on the shores of Red Indian Lake. Walk the sandy beach and learn how the Beothuk lived and hunted from out award winning interpretive storyboards. Come to our new indoor site, The Lewis Miller Room in Lakeview Hall, to get your passport stamped. Here you can relive the community s history as an A.N.D. company town which supplied raw material for the newsprint mill in Grand Falls, and see the enormous billiard table donated to the town by Lord Northcliffe. 2010 winners of the Manning Award for Excellence in the Public Presentation of Historic Places in the National Category.
1st of July Millertown, in the Lewis Miller Room: There will be bi-weekly displays. The one currently up is
called "By Way of Water", and will be up until July 15th.
7th of July Art Ex will be holding events throughout the region leading up to the main events held
July 7 - 9 2011. Check out their website at: http://artexploits.com/
16th of July Lewis Miller Room: School Memories and will be up until July 30th.
Throughout the summer there will be various exhibits at The Lewis Miller Room:, The Beothucks, and The Laplanders / Reindeer Trek, Logging, Then and Now, By Way of Water, At The Movies, and many more exhibits showcasing the rich heritage of Millertown.